Designing is all about creating new ideas and converting them into real products. Ideas creation is not a simple task. You have to play with colors, patterns, designs, etc., and then In final design gets ready. For all these things, professional designing services are required. Tap sourcing company UK is the solution to all designing needs. It has two separate departments under design:
Fashion Designing
Textile Designing
Tap Sourcing Provide Most Influential Textile Designing Services
Tap Sourcing provides Fashion Designing Services and  Textile Designing services that helps small fashion brands and startups to succeed in their business by providing the needed expertise and services.
If you are the one who is…
Thinking of starting your own brand but needs guidance in the process ;
Already owning a brand but wants to scale up the business with a parallel project;
Needing some assistance in daily work;
Need some advice in a specific area;
you are in the right place!
Fashion Designing
Textile Designing
Our Textile designing department is concerned with creating woven, printed, or knitted patterns for clothing like silk, cotton, polyester, etc., or home décor. Textile designing is only concerned with textiles, clothes, and apparel, among other things. But fashion designing offers more than that.
Our fashion designing department is concerned with creating clothing, accessories, and fashion-related lifestyle items.  Our team of designers is highly qualified and dedicated to giving your unique and eye-catching designs or patterns.
Professional Teams of Designers
Both departments have their professional teams of designers, and they work in full coordination with the clients. Due to the continuous communication between clients and designers, we can meet the requirements of our customers. We also provide samples that our customers can choose from, along with custom designs.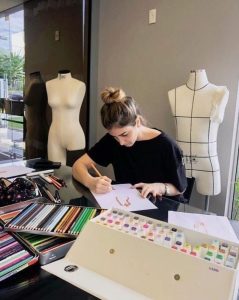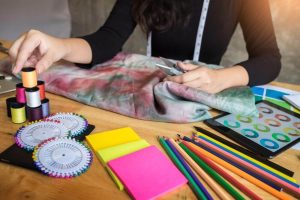 Steps before Mass Production
We perform each task or stage of designing with care and give importance to all the details provided by the client. We perform the following steps before starting mass production of an idea.
Design brief
Creative research
Idea generation
Design development
Evaluation and selection
Creation of a collection
Finished design
The latest and up-to-date methods convert ideas into real products, clothes, apparel, or other textile items. Our high-quality machines and equipment make our design durable, and the plan doesn't fade away with time. So, durability is our promise.
All our services are available at reasonable prices, and we offer competitive rates to our customers. This thing reduces the producers' cost (our customers) and increases their profit margin. So, if you are looking for high-quality designing services at reasonable prices, then Tap sourcing company is the right platform for you.