Tap sourcing provides Finest and most quickest embroidery services in Pakistan
Tap Sourcing is turning all the tables to meet the latest embroidery and styling demands. Moreover, the workers are skilled enough to operate the needle for thread or yarn mechanically. Sometimes narrow wires are used to cast.
Fabric crafting is a widely used clothing technique of ancient times, although it is still prevalent in the contemporary fashion world. However, the current embroidery is quite distinct from the past ones.
Print embroidery logos and badges branding in PK
With the help of our Embroidery Services Pakistan, your company's logo will be stitched into the cloth or fabric using embroidery, and there are multiple benefits of our embroidered logos which are following:
Embroidered logos endure a long time and are quite tough.
A modest logo or any other design might benefit from this method.
The long-term nature of the embroidery patterns ensures cost-effectiveness as they will remain as it is for a long period of time.
Even if you often wash the completed product, it will not fade.
With thick clothing, you won't have an issue using this method.
In short, we print embroidery according to h individual customer requirement, and for that purpose, we use the latest embroidery printer that copies the provided design as it is. We also provide all embroidery services at affordable rates, and we can deliver any size of the order ( including custom orders ). So, hire Tap sourcing company UK's embroidery printing services and get your finished products ready with us.
For any material, decoration, or branding you want, you can expect nothing but the best. Look for embroidery, screen printing, or digital printing firm that has been in business for a long time. In this method, you can ensure that your logo or picture represents your organization in the best possible light. Tap sourcing company PK is the right platform for getting embroidery services.
Among multiple services, one of the most popular services we can give is clothing embroidery, and for that purpose, we have a team of highly skilled employees that are well trained in their work. We collaborate with our clients to craft a product that meets their brand's requirements and gives an entirely new look to different clothing items
About Embroidery Services
We use high-quality thread for embroidery to create fine designs, and we have a good reputation due to our work. Because we have years of experience in textile and apparel, we can recommend the best quality garments, embroidery designs, and products to fit your brand and make your business flourish. We also provide samples for embroidery designs. In this way, the client can select the products according to his demands.
You can also use our embroidery service to craft your logo designs on your brand's shirts, trousers, or other apparel. Your company's name or logo will be recreated with embroidery by threading straight into the material or cloth. Moreover, you can provide your fabric for embroidery, or you can choose to form our viable fabric options for embroidery purposes.
Along with embroidery, we also offer embroidery services on all fabrics ( whatever client wants to choose). We provide two types of embroideries:
Computerized Multi-Head Embroidery
Hand Embroidery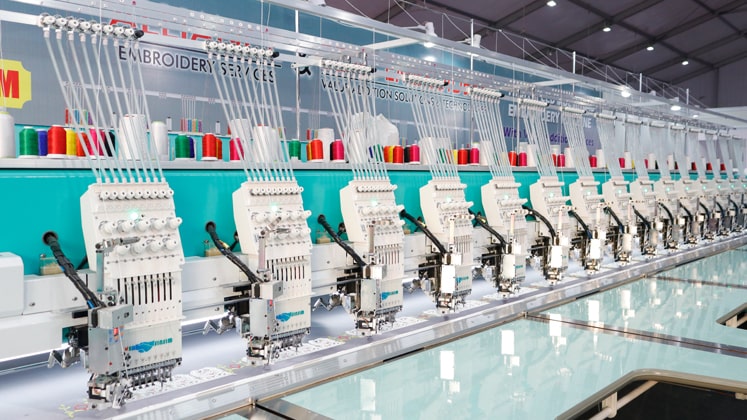 For computerized embroidery, we use the latest machines in which design is uploaded, and the machine copies the exact embroidery pattern on the Fabric. Our team of designers gives strategies. However, the client can also provide their designs if they want to.
For hand embroidery, we have a team of handicraft workers that are experts in their work and can copy any design provided to them by our designers or directly by clients.